Medicine Work & Yoga Retreat with 3 Powerful Shamans, Meriana Dinkova and James Hyman in the Peruvian Amazon


June 10-19th, 2017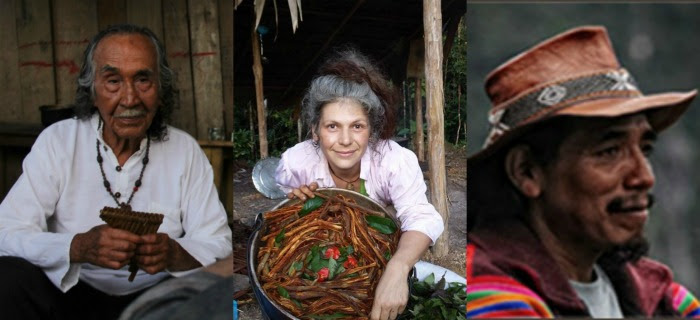 – 4 Ayahuasca and 1 San Pedro Ceremonies
– Workshops with psychotherapist Meriana  Dinkova and James Hyman 
– Deep Emotional Release in a group dynamic and Private Sessions w/Shaman-Healer, James Hyman
– Yoga Classes and Sound Healing with Celeste McMillian
– and much more…
After having worked with dozens of shamans over the last 20+ years, psychotherapist Meriana Dinkova has crafted a unique 10-day Ayahuasca Retreat with some of the best and most powerful shamans to be found:
Master Alchemist, Banko, Curandero, Don Agustin Rivas Vasquez(which translates to 'Supreme Shaman of the highest order'), the Clairvoyant Curandera Borka Cafuk, who has the ability to diagnose and remove harmful entities; and the Ancient Ancestral Communicator– Kucho, a San Pedro shaman who is permitted to do ceremonies at Machu Picchu, who will fly in from Cusco especially for the retreat.
The different offerings at the retreat are aimed at reprogramming emotional 'malware', getting rid of psychological viruses, rebooting and upgrading your personal and spiritual operating system and attuning you to your purpose, passion and aliveness.
Yoga Teacher Celeste McMillian will be offering Sound Healing andVinyasa yoga classes (bring your yoga mat:) and James Hyman, founder of the Deep Emotional Release Bodywork and Quantum-Theta Healing will be helping enhance the experience of the group with his powerful consciousness-shifting work. 
This in-depth, all-inclusive retreat will be a unique merging of some of the most powerful healing and mind-expanding traditions: Indigenous Shamanism & Medicine Work,Western Psychology and Shamanism,Eastern Spirituality and Yoga.
It is an opportunity for accelerated healing, deep psychological and spiritual upgrade and emotional reprogramming!
One of the special features of Meriana's retreats, which you will not get
 anywhere else, is that you will have the opportunity to learn & practice her multi-modality system for working with Ayahuasca and other Teacher plants. This neo-shamanic technology is designed to give you a framework  and a cutting edge psychonaut tool kit for navigating and integrating the experience. Meriana will teach you practical techniques to help you swim in the waters of the shamanic realms. You will learn how to navigate the experience in a safe way, while maximizing the learning and spiritual transformation it can provide. Her system is very useful for people with all levels of experience, and is especially invaluable for the first-timers.
Shamanic healer, James Hyman, founder of Deep Emotional Release bodywork and Quantum Theta Healing will also be there to help facilitate this journey and assist participants in navigating these waters and integrating the experience. 
WHAT'S INCLUDED:
– 5 ayahuasca ceremonies with 3 shamans: 2 ceremonies with Don Agustin, 2 ceremonies with Borka, and 1 ceremony with Kucho
– Pick up and drop off from Iquitos airport and travel to and from the retreat centers
– Accommodations
– Diet meals at the retreat centers
– Consciousness- and Inner- Space Navigation workshops led by Meriana Dinkova
– Integration sessions where you will learn how to apply your insights to enrich your life with Meriana Dinkova 
– Personal feedback from Kucho and Don Agustin
– Personal check ins with Don Augustin and individual diagnosis and feedback to from Borka – she is making herself available to speak with each participants individually before and after her ceremonies to give individual feedback. She will share with you what she has diagnosed, as well as what she has been able to heal/remove during the ceremonies, and what may need more work
– Deep Emotional Release Bodywork and Quantum-Theta Healing Group Sessions and powerful Diksha One-ness Open-Eye Meditation and Blessing facilitated by James Hyman
– Vinyasa Yoga classes and Sound Healing with Celelste McMillian
–  Study medicinal plants and take guided jungle walks
– Kucho will offer a Coca Leaf Reading and physical body Purifications, the effects of which go beyond the body into the emotional, mental, and spiritual energetics.
– Optional Kambo/ Sapo frog medicine sessions with Borka
– Optional Nunu (tobacco snuff with different ingredients +Aya vine) with John Moore
– Bird watching trip on the river
Contact James Hyman for more information, (805) 302-8448 and to register.
Special Early Bird discount $2275 ends April 20th (9pm PST) 2017
Full Price after that is US $2375
You can pay in full or put down the $500 non-refundable deposit to secure your spot.
If you would like to speak to Meriana in order to make a decision, please email her AND text her with your name, email and some good times to call you back. Her email is merianadinkova@gmail.com and  for quickest response text or call her cell+1-415-7133338
Also contact Meriana if you would like some tips on saving $ on airfare to Iquitos.
WHAT'S NOT INCLUDED:
–  Airfares (International and National)
– Private Sessions of Deep Emotional Release Bodywork and Quantum-Theta Healing with James Hyman to release blocked energy, and access expanded states of consciousness, and connection with the Quantum-Theta field of energy before or after ceremonies
All of this shamanic work will be based on high ethical standards, including personal integrity on every level.
The retreat is limited to no more than 20 people, so participants can receive individual attention from the shamans and the facilitator.)
The MEDICINE SHAMANS:
Don Augustin is considered a 'miracle healer', since he cures people of all kinds of difficult illness like cancer and diabetes using plant medicine. He is a Banco Curandero, the highest level there is here.The term 'banco' refers to curandero who has mastered Ayahuasca shamanism at the highest level. There are only a handful of curanderos who reach the 'banco' level and Don Augustin is among few living in this day and time. He has been taught many Icaros and Mariris from the spirits of many plants and ancient shamans, and has acquired the "Yachay", or magical phlegm, that Amazonian shamans use for extracting harm from people, and as spirit-helpers.

Borka Cafuk specializes in treating energetic disorders, removing intrusive energies and entities from one's physical and energetic body, which, when left undiagnosed and untreated lead to depression, anxiety, addictions and physical conditions. They can attach to us through personal or ancestral trauma. Signs of intrusive energies or entities include: acute or chronic localized pain or discomfort; Addictions; Panic attacks, depression, inexplicable losses of energy, compulsive behaviors, mgraines, memory loss without medical explanation; hearing voices, (especially if the voices are being contemptuous, and telling you to do things you would not normally do), feeling that there are energies surrounding you or inside of you which are not yours and are affecting your life in a negative way, etc.
KUCHO is living the proposal of his soul. He was born in the city of Cusco and Machu Picchu. He has received great initiation of Apu Machu Picchu to raise the cosmic consciousness of humanity and to purify and regenerate the Earth, known in the Andes as the new transformation– Great Pachakuteq. Communicating with the spirit, it's in his commitment to provide the highest level knowledge in the Andean tradition and offer sacred journeys with integrity and safety. Kucho, Juan de Dios, receives the energy and power of the white city of Machu Picchu glass, Heart of Machu Picchu and the Sacred Mountain coca leaf. He communicates with the spirit of the ancestors through symbols, signs and sacred geometry of the temples and Wakas. (Sacred sites) Kucho will offer a Coca Leaf Reading and physical body Purifications– emotional, mental, and spiritual.
THE FACILITATORS:
MERIANA DINKOVA is a San Francisco and Los Angeles based psychotherapist (MFT#45696), Life Coach, speaker, and Ayahuasca retreat organizer/facilitator. She has created a comprehensive system of psychological and neo-shamanistic tools, designed to assist with the navigation and integration of non-ordinary states of consciousness in general, and with the Ayahuasca experience in particular. Meriana developed an innovative system over the past 20 years– through working with the plant medicine, while studying and practicing a wide variety of psychotherapeutic methods and transformational modalities. Additionally, her teachings are informed by the many years that she spent immersed in the transpersonal teachings of different non-dualistic spiritual teachers, and through the practice of a wide variety of meditation methods. Meriana's unique system can be helpful for just about everyone, and her guidance can make a world of difference for people who are drinking ayahuasca for the first time. She organizes Ayahuasca retreats to Peru, in which she combines her framework with the medicine work of experienced shamans. Meriana gives lectures and teaches workshops in the US and around the world, sharing the system she has developed at conferences and festivals, including the International Amazonian Shamanism Conference in Peru, the Women's Visionary Congress in California, the Breaking Convention in London, the Tantra Festival in Hawaii, the Envision festival in Costa Rica, Burning Man and others.
For people who want to learn her system but can't make it to one of her retreats, Meriana also offers Skype/ FaceTime sessions on preparation and integration for working with Ayahuasca and other plant teachers. You can email Meriana at merianadinkova@gmail.com or call her cell directly at +1-415-713-3338.
JAMES HYMAN is a Los Angeles and San Francisco and based shamanic healer, and founder of Deep Emotional Release Bodywork who is uniquely qualified to assist Meriana in facilitating this journey. Over the past 40 years, James has shared his advanced transformational healing work with thousands of people all over the world, in workshops and private sessions, including some of the most famous celebrities, healers, and spiritual leaders on the plane, who come to him based on his worldwide reputation and results for quickly helping someone to go to the core of their emotional issues, identify what is keeping them blocked or stuck and release it, and then help them connect on every level with their own unlimited, empowered vision for their life, and fearlessly move towards it.  He is very excited about joining Meriana on this upcoming Shamanic Adventure to Peru, which will be his 3rd trip there to work with shamans and help facilitate this profound, transformational, healing process.  For more info about working with James, go to www.EmotionalRelease.com or call James directly, at (805) 302-8448.
Celeste McMillian is  LA based Vinyasa Yoga Teacher and Sound Healer. She has a deep sensitivity to the energetics of body and spirit and a depp passion to be of service for elevating consciousness. She is a party of the SharingLoveAndLight Healer Collective and has been teaching Yoga and practicing healing work in the US and in Thailand.
Between and after the ceremonies Meriana and James will be offering workshops and meditations designed to support you in different aspects of your personal process and to help you integrate what you have learned on a deep level that supports ever-lasting change. Working in this way and getting the opportunity for individual diagnosis and consultations with each of the different shamans over the course of the retreat will help you open more and more to the transformational powers of the medicine, remove emotional and ancestral blockages, deepen your sense of purpose and activate your own shamanic power.
It is thus ideal for both beginners and those experienced with ayahuasca who value a tightly held and sacred space to fully open up to the mysteries that ayahuasca can reveal.
Scroll to the bottom to see photos of past retreats.
THE RETREAT CENTERS:
For the first two ceremonies we will be staying at Don Augustin's retreat center, 30 min away from Iquitos. After that we will go to the Amazonica Botanica center, which is a beautiful retreat center two hours up the river from Iquitos. It is directly on the river and surrounded by jungle. It has a maloca for the ceremonies and a swimming pool for the hot weather during the day:) Each tambo/bungalow has its own bathroom and shower. Most of the pics below are from the second retreat center.